Getting the Right Look for Your Ride
Whether you call your car your ride, your whip, and or your dream machine you see it as an extension of your personality. This is because many of us have a love affair with carts because all that they symbolize and all, that they offer us. Cars offer us freedom and speed. They give us control of a massive amount of power unlike any other machine we can own. If you have the ride that you love to cruise around in then you may want the outside of your ride to match what's under the hood. To do this you may need to have your car custom painted. There are several types of custom painting which can have done which can help you express your personality. Below is some information which can help you decide what type of customization you desire.
Specialty paints
The paint used on these cars has come a long way over the years. No longer do people have to choose only from the same old primary colors. There are several custom paints available and there are others which can be custom blended to meet your needs and wants. There are several light effects which have been added to some of these paints. Now cars can be painted so that they actually change colors in different lighting.
There are some paints which have metallic effects and those which have been designed to help graphic and pictures placed on car look more realistic. Think about getting one of the pearlescent paints that you can add to your car which will cause the paints to seem shiny and even richer in color than ever before. This is because of the mixture of satin colors and whites which will enhance the look and feel of the paint when applied to your vehicle. These are perfect for when you are looking to add things like flames or even pin stripes and other designs because they will not leave a raised pattern on the car when it is done.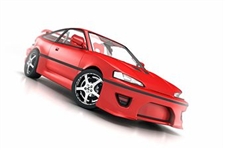 Custom designs and Graphics
There is several custom auto design shops which can tan take a design idea for your car and turn it into a reality. Today there are several of these shops which staff graphic designers who work with you and use special software to design the look you want. They can take these designs and show you mock ups of what your finished car will look like. They can then take these designs and match them up with custom paints which will help make your design even more special.
There are those who like to take the decoration of their car to the next level. To do this many people have custom graphic and pictures put on their car. There are some shops which have advanced well beyond the art of air brushing designs to placing actual photos on cars. These designs may cost a lot but they can make your car design dreams come true.
Comments for this post are closed