Using Decals and Airbrushing to Create a Custom Look
The outside of your car might go through a few different variations before you find the one that you like the most including the paint. The stock paint which comes on most cars does not have really anything to it which adds panache to your ride. This is why you will add embellishments like designs that you can airbrush onto the car or decals which can be added to the sides of the car and your windows. By knowing what you want and how to properly apply it, you will be able to get even more for your car.
To make sure that you are getting exactly the kind of look you are going for, it is a good idea to see a specialist in car airbrushing. You can also have decals custom made for a specialized look you will not see anywhere else. Of course, you can also purchase the decals which will let people know exactly what you have invested into the car. These additions are strictly for appearances of the car, but they can help in making sure that you will have something others will be jealous about.
Airbrush Specialists
Airbrushing your car has many different benefits. You can get the kinds of graphics on your car which will create realistic looking flames and different kinds of images which were not possible before. These are preferred by many over decals because they are applied under the clear coat. They will leave no raised lines and there is no possibility that they will peel off. The reason why it is important to use a professional is more than just the quality of the work. They will also help in making sure that the inks used will not fade whenever the sun hits them.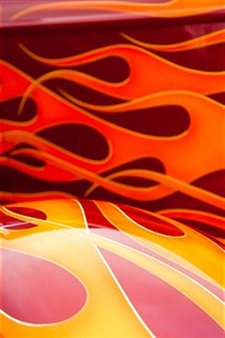 Custom Decals
If you prefer traditional looking decals on your car, you will be able to buy different ones which will allow you to have exactly the look you want to have. By purchasing these, it is possible that you will be able to add something to all of your vehicles so that they will all have an appearance that will allow them to look similar in nature. You will even be able to get a few which will have the traditional flames that you want to have on a vintage car.
Manufacturer Decals
Those who are tuning a modern car will likely want to show what they have under the hood. This is when you should purchase all of the different decals which show the names of the different companies you have purchased from. A customary place to put these, other than on the windshield, is next to the wheel well. You can also add them to the door panel so that whenever people see you driving your car, they can see all of the additions you have made and the kinds of things which will help your car to perform better. These will also allow your car to look race ready as these are traditionally used by racecar drivers.
Comments for this post are closed